You might have heard the news about Cortana, Microsoft's entry in the personal assistant space. I am very excited to see Cortana out there, even in her current "beta" state.
"The most personal smartphone assistant"
(Windows Phone 8.1 features)
I have been involved, as the Architect of the Bing cloud platform that powers her, with Cortana's development from the very beginning. I feel privileged to have worked, and continue to work, with a very talented and passionate set of people across many teams, spanning Bing and Windows Phone. Cortana has been the result of very hard and dedicated work by many, building on the foundation of the Bing Platform and expanding to new areas such as anticipatory computing, stream processing at scale, language and conversational understanding, and many many more. Over time I will write in more detail about the various components that bring Cortana alive.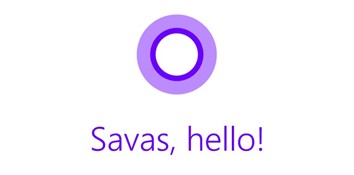 To me, Cortana represents a starting point. As I mentioned in past blog entries and talks,* I believe that the way in which we interact with information and knowledge, consume services on the Internet, and generally relate to technology will fundamentally change in the years ahead. We witnessed the proliferation of the Web as the primary entry point into a world of hyperlinked information, knowledge, and services. Over the last few years, mobile applications have emerged as the primary metaphor for human-computer interaction. I believe that we are now starting to see the dawn of personal assistants, who are going to ultimately eclipse the need for hundreds of installed applications on each device, who are going to save us from having to continuously switch between contexts in order to get the specialized experience that each application provides. Most of our computing needs could be handled by digital personal assistants who integrate with our favorite services on the Web, learn about us, act on our behalf, make recommendations, and anticipate our needs. Of course, it's not going to happen overnight.
The Bing Platform: More Helpful, Personal and Intelligent from Bing on Vimeo.
Cortana is learning, she evolves over time. The more people interact with her, the better she becomes. Since she's powered by the Bing Platform, we are able to introduce improvements and new features without having to wait for updates to the phone bits. Expect to see more through this blog over time.
If you are a registered Windows Phone developer, go get Cortana today by downloading the 8.1 bits on your phone.
If you are interested in finding out more, here are some links:
If you have any issues, please feel free to drop me a line.
* Examples: "Convergence of User Experiences", "QCon London 2013 – 'A Platform for All that We Know'" (large PDF)